I believe almost every Asian traveler heard about
Air Asia
, not because of it's service or quality, but it's lowest fare airline. Well, most of the time cheap doesn't mean good or quality, there is risk we have to bear. In this case, we talk about depart on time.
Just last month alone, I've been traveled with Air Asia for 4 times, with 2 times delayed of more than 1.5 hours. The delay rate was 50%! You can imagine how bad it is. They just don't want to make the delay more than 2 hours in order to compensate me some money. Well, this is the risk we all familiar with Air Asia, but we pay a lot lesser. Fine. I'm not talking about this common issue today, as I've
a post comment about their services
before. I just want to express my unfortunate on last month.

Complaint is no longer a fresh news for Air Asia

When we talk about Air Asia, we talk about low fares. In order for Air Asia to continue to offer us low air fares, it must keeps its cost as low as possible while making profit. Okay, from what I observed, below's are how they keep their costs "low".
1) Higher volume
When they offer low fares to the consumers, especially when everyone, including business people and family are trying to save money due to economy situation, their businesses will getting better and better. And this can also be advantage to the occupancy rates of the flight, with the same destination.
2) Early Bird Promotion
You must have noticed how often Air Asia promotes their lowest fares ticket from time to time. Even though it's really cheap, but when there is a volume, they can collect your money first and make use of it for other investment or pay debts for greater return. Great.

RM9.99 & pretty stewardess are no longer a fresh advertisement from Air Asia.

3) Build low cost terminal
They build low cost terminal nearby those busy terminal for their advantages. Not only they can save the sum of airport tax, they can dominate the shoplots rental in the airports, as well as transportation from airport the customers destination. Since they have so many airplanes and flights for the same destination per day, it's a wise decision.
4) Lower pay
From what I know from my friend working in Air Asia. The staffs, even pilots and aircraft engineers pay are not as high as other luxury airlines such as Malaysia or Singapore Airline. They also hired most of the locals to do the works, as they can absorb the lower pay work. Well, this is logic as they are running low fares business. Yes, all this is logic, except the management pay.
One thing amazed me is that, they cut the cost of having aircraft engineers station in non-Air Asia airport. How? For short route, one aircraft engineer has to follow the airplane to every destination, and service the airplane at every destination. I can only shake my head for that aircraft engineer.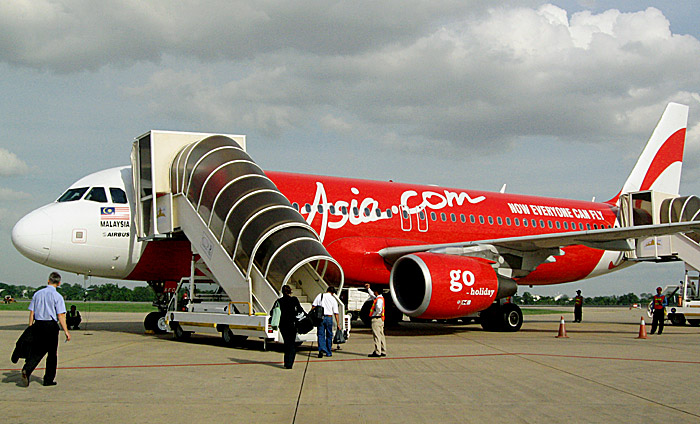 Since it's low cost terminal, you will be in deep shit if it is raining heavily.

5) Other charges
Well, depends on the low air fare itself might not sufficient to make more profit. They launched a lot of charges related to traveling, such as meals and beverage serving with charges, souvenirs, hot seats with charges, travel insurances, luggage charges and so on. These can be bringing good profit to them too. If you insist that you want to save up your bulks, you can forget about all of them, except the luggage charges.
One thing I wonder, since Air Asia objective is to keep everything low cost, but why, why the meals and beverages are so expensive? They are even more expensive than the airports! To boost up the sales of meals and beverages, I think Air Asia really need to revise about this!
6) Other profit-driven businesses
I think their strategy is playing well. They are not only focusing on airline business now, they also attacking transportation and accommodation, which also related to traveling and tourism. I believe you have heard about Tune Hotel and Tune bus. And they come with one goal, low price. Great. Tune hotel starting with RM9.99, which I haven't try before. I believe more Tune to come. Good job.

This is a embarrassing for the stewardess, she might be too tired. What a naughty shooter.

That's all about my observation. One thing worth to mention is that, many of Air Asia stewardesses look great. That's mean Air Asia also control over the quality of their customer services as well. What a company, keep it up please!