Sorry for the slow update once again, folks. I'm really out of time to update my blog these 2 weeks, as I busy to 'spend money' around with my family for the coming of Chinese New Year. Well, I believe this is the only chance that I can spend that much, otherwise I should have broke long time ago.

Actually I've an update 2 days ago, but it really got me frustrated. After I almost completed my post, the browser crashed and the Internet line was disconnected without my awareness, and my post wasn't save to the cache at all. What a unfortunate for me. ;(
Anyway, I watched Underworld 2009, The Rise of the Lycans on last night and I would like to share my review to you. If you yet to watch part I and II, I believe you still can enjoy it nicely for the action part as you don't have to know much about the previous parts.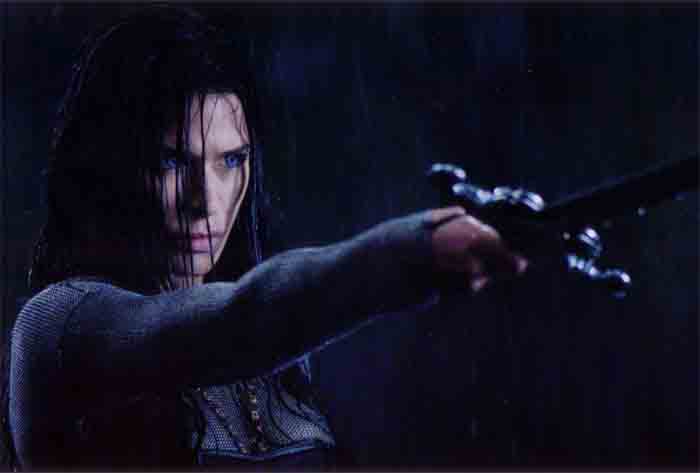 I've tonnes of reasons that I don't like her.

The part III talks about the origins of the centuries-old blood feud between the aristocratic vampires and their onetime slaves, so-called the Lycans (in fact Lycans are werewolves?). One of Lycan emerges as a powerful leader who rallies the werewolves to rise up against the cruel vampire king who has enslaved them. And there is a 'not' romantic story behind the scene.
I personally don't really like the starring. Perhaps I don't know anyone of them, or perhaps the female starring is not hot/sexy to me. But I would say the vampire king did a good job, I like his acting. Overall is encourage enough to watch, if you like action movie, or you've already watched part I and II. I assure you that this movie won't make you fall asleep easily.

This old folk really knows how to act hah!

Okay, here's my final ratings for Underworld - The Rise of the Lycans for your reference.
Cast: 5/10
Plot: 7.5/10
Effect: 8
Cinematography: 7/10
Action: 3/10
Story line: 7.5/10 (I'm a martial art lover)
Overall: 7/10
All right, folks,
I hope you will enjoy your weekend and holidays.
eKimkee wish you a very Happy Chinese New Year! I will see what can I post again on next week. See ya.