Are you AirAsia supporter? I think most of the South-East Asians are, because AirAsia is really offering cheaper ticket for us to travel around Asia and within Malaysia, if compare to other airlines. However we just get frustrated of its services sometimes, among the top hits are scheduled and serious on-board delay.
In order to gain significant competitive edge,
apparently AirAsia is trying to improve its services all the while
. If you browse through
AirAsia web site
, you will able to see a notice where
AirAsia willing to provide you a guarantee that you'll receive compensation for flight delayed of

more than 3 hours

from the scheduled time of flight departure.
Hmm...
It stated you will get a RM200 E-Gift voucher if you are unfortunately fall into the >3 hours delay group.
You may use the AirAsia E-Gift Voucher to purchase your next AirAsia flight. Bear in mind that
it is eligible to claim for those have already checked-in and proceeded with their journey. If you received SMS about the delay of more than 3 hours, you are not entertained.


Eh, the ONE REASON is the stewardess or RM0.99?
Seems like they are making effort to make your flight not to delay more than 3 hours.
And they claimed that they achieved 89% of on time performance in May.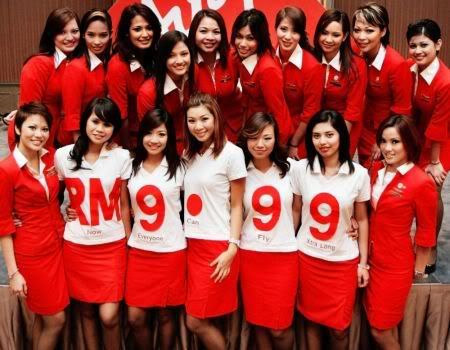 Why AirAsia need to promote RM9.99 air ticket in this way huh?
Anyway, another good news is, AirAsia is trying its best to retain the fuel surcharge price to its customers, even the fuel price spikes dramatically. Tony said they will try to utilize other sources to generate income to cover the fuel surcharge. such as imposing charges per luggage, launch of new food and drink menu, introducing pre-order meal, express borading charges, work with bank for credit card offer, offering transportation service, promotion offer to attract more customers etc.


AirAsia not only improving quality of services, but also improving chicks quality.

Even though competition is getting tougher, especially MAS airline is adopting AirAsia to have budget fare concept now, I still believe AirAsia will continue to do well, because AirAsia fare is still cheaper, and most importantly, the leader. He is the man who solving the real need and problem. Yes, he is none other than Tony Fernandes.

I just love this 'kind' of service, can I also have one or two pls?
I salute you,
F1 drivers
Tony bro.