Hey, have you being molested, or you molested someone before?
I was not happy on Friday, because one of my female friends was being molested by a guy on the street, while she is waiting for someone. A guy suddenly came from behind and touched her ass from behind and run away immediately after he did that. Wtf.
Again, I was unhappy about it not because I'm admiring her. But as a friend, I feel pissed off about it and the guy is not respecting woman at all.

Oh man, this guy dared to molest the girl boobs in the crowd.

In fact, I would like to molest my dream girls also sometimes, but I guess it's not right to do so. So I always think that what can I do in order to allow me to molest 'legally'. Haha, that can be a dream if I think about it myself, as I'm born as a conservative Asian and living in a Muslim country.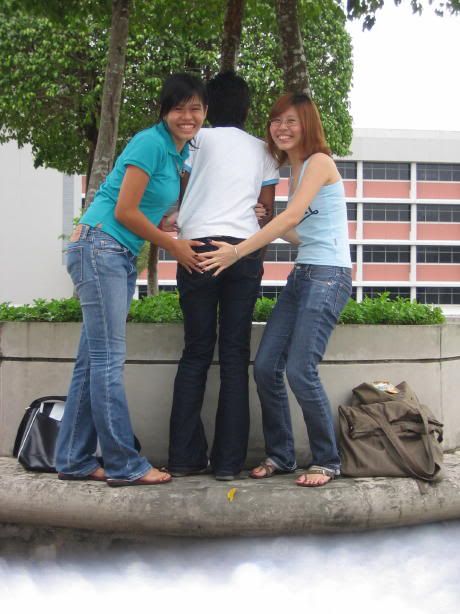 Would it be happy from both side, if we molest in a kidding way?
Surprisingly, I discovered a local
pretty blogger
is sharing some tips on how to molest girl. I read on and realized some of them might works, especially for Asian girl! Of course, with term and condition apply. ;)
Let me just share them what she wrote here.
It's easier to molest a friend than a stranger. Walk up to her from behind, then hang your arms around her shoulder, like how you would to a buddy. Take the chance to whisper in her ears and sniff her hair. Make use of your hanging arm, attempt to 'accidentally' touch her boobs without her noticing. For example, both of you are walking and moving, accidents will occur, just pretend you didn't notice your hand touching her. Nice.



Try to talk with hand gestures. The more the better. Create 'accident' to bump your hand into her boobs, then say sorry. She won't mine. You can try it when a bunch of you are hanging out, she won't suspect a thing.


When you guys are sitting down, try to drop stuffs onto the floor. Then while bending down to pick it up, act if you're having problem bending over and place your hand on her leg/lap for support. She won't mind, but not too long of course. try your luck by caressing her leg too while at it, pretend that you can't reach the object on the floor.


The simplest trick in the old book is, when you guys are walking together. When there will be a sudden change of direction as where you guys are heading, put your hand at her back and guide her to the right direction. Aim properly and place your hand at the clasp of her bra, that might turn you on. Brilliant. xD



When crossing low traffic roads, put your arms around her waist and cross together. While crossing, take the chance to move your hands more around her waist, or even tighten your hand around her waist. She would even think you're a gentleman.



The best trick to is to tickle your friend. When tickling her, she will obviously struggle and move a lot. Take this chance and touch every part of her that you want to. Just make sure not to be too obvious and constant tickling must be kept in order for her to keep laughing and not pay attention to your dirty little trick. Totally agree?



Is dancing with friend/stranger also the best chance to molest? Definitely.


To be honest I haven't try any of them yet, except #2 and #6 in rare cases. But they were done unintentionally. So I have to train and practice to do all of them 'unintentionally' from now on. Hehe, I'm just kidding, do try me next time. ;)

So come back to my question now. Do we or girl will still feel bad, if we molest in an 'appropriate' (purposely unintentional) way?