I believe you have see/read newspaper or news with your big eyes. We are surprised by the sudden attack of price hiking from the government and our P.M. So what's your plan to cope with these issues? Before we make a move, let's look at the issues in details first.


1. Petrol
Our PM announced some changes to Malaysians on yesterday afternoon. Of course, the breaking news was the petrol price up effective from 12am this morning.

Malaysia fuel price history

The new retail price at:
Petrol RON97 – RM2.70 (previously RM1.92), East M'sia RM2.68
Petrol RON92 – RM2.66 (previously RM1.88)
Diesel – RM2.58 (previously RM1.58)

Vehicles queue long to get last day cheap petrol

This announcement has caused serious traffic jam among all roads/highway which has petrol station attached from 7pm - 12am, all over Malaysia.
Fortunately there are some rebates listed as follows:
a) RM625 per year for the private vehicle with engine capacity of 2,000cc and below.
b) RM150 per year for each private motorcycle with engine capacity of 250cc and below.
c) RM200 reduction on road tax for private petrol and diesel vehicles with engine capacity above 2000cc.
d) RM50 for private motorcycles with engine capacity above 250cc
However, this is definitely not sufficient for most of the vehicle consumers.
A simple calculation shows that unless we consume less than RM128.20 per month, or else you will paying more after rebate deduction. And I've calculated, I'm paying 36% more for the fuel price monthly, compare to the previous fuel price. You can have your simple calculation
here
.
This is a very bad news for Malaysians, but surprisingly, there is more burdens to come!
2. Electricity
For electricity, there is also adjustment for the charges.
a) Commercial and industrial – 26%
b) Retailers and small restaurant operators – 18% (for first 200kWh per month)
c) Residential – new pricing structure for users above 200kWh per month

The more you use, the more you pay.

Another bad news for me, my house has no air-con and only live with 3-4 people. My house is consuming average of 360kWh per month man! RM80 become RM94.40 soon. -.-
I think to keep under 200kWh for people who live in the city, some conditions need to be apply.
a) No air-con
b) All out and all things consume electricity are off, except refrigerator, during working hours.
c) Maximum 2-3 people staying in the house.
d) Reduce usage of TV, video games and water heater.
e) Sleep early and leave the house for work early.
3. Service tax threshold for restaurants and eateries
It's bad, but there is still a little good news from P.M. announcement. There will be service tax for restaurants and eateries with annual sales of RM3 millions. Previously it was RM500,000.
As RM3mil is not easy to reach, the small & medium restaurants and eateries are not suppose to collect 5% government tax from us! If they still do the same thing, ask prove from them and request official receipt from them! At least not allow them to earn our blood-sweat money easily!
4. Impacts
So what are the major impacts for these?
Well, there will be more and more bad news coming very soon.
Some prices are confirmed to be hike are:
a) Imported rice, hiked 100%
b) Transportation charges, increase 60%
c) Foods & drinks
d) Properties
e) Petrol - to be reviewed by government every month, target is RM4.
Besides, KLCI also dropped dramatically these 2 days, expecting to drop more for the following days.
And we also noticed
P.M. web site
being hacked this afternoon. 0.o
7 Myth of Impacts:
a. More bicycles, motorcycles and small CC car like Kancil around, true.
b. More robbers around, may be.
c. More financial planners around, true.
d. More police and government servants involve in corruption, may be.
e. More talented employees migrate to other higher pay countries, true.
f. Less vehicles around and less traffic, unlikely.
g. Less spending and dine outside, confirm.
5. Inflation
Bank Negara Governor, Tan Sri Dato Sri Dr. Zeti expecting the year 2008 inflation will be about 5%, and Q1 2009 is about 5.3%! I believe it may be more than that, easily. That's mean if you put your savings in bank FD yearly 3.7%, you definitely making a loss, of 1.x%!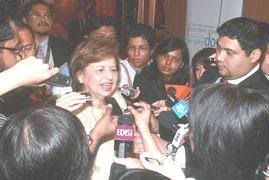 Dr. Zeti is surrounding by journalist like a pop star today.

6. Plan
Don't worry, just be positive, life goes on and we will sure get our way in.
At this moment, we just try to save as much as we afford to and get as much income as we can, while we waiting for August to see what our government has to say again. Hehe.
I will discuss on some petrol saving tips on my next post.
Boleh bah, kalau kau!