Good news for Sabahan + M2U Online users! I just recalled my colleague and I were discussed about this few weeks back.
Do you know Maybank2u.com is offering a
contest
just for SABAHAN only, with the theme "Pay your bill online" since early of April.
Yes, you can win the following prizes if you pay your bill online to the payees involved.
Monthly prize may be give to you every 7th of every month during the contest period. However, there is only ONE Grand Prize to won in the end of the contest.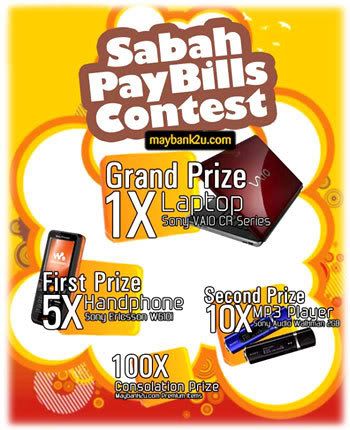 The payees involving in this contest are:
Sabah Electricity Sdn Bhd,
Dewan Bandaraya Kota Kinabalu,
Majlis Daerah Keningau,
Jabatan Air Sabah, Sutera Harbour Golf & Country Club Installment,
Sutera Harbour Golf & Country Club Spending,
Borneo Housing Mortgage Finance Berhad,
Top Max Development Sdn Bhd Court,
Top Max Development Sdn Bhd Villa,
Oi Brothers Motor Station (m) Sdn Bhd,
Pusat Zakat Sabah.
So if you pay your telekom and Streamyx bill online, you are not involving in the contest. Apparently Sabahans owing them a lot of money, if not they won't dump some money and joint up to ask Maybank to award it's users to pay their bills. The prizes even seem like not that attractive la.
But hey, does it looks like quite easy to win? The number of contestants are already cut down to Maybank users AND Sabahan only. How many people are actually do online payment in Sabah? And how many people know about this contest? It won't be many right? You can win if you make the highest number of bill payment transactions with the minimum of RM30 within the period of the contest. Meaning, if you have about 3 years didn't clear your DBKK assessment fees, electricity or water bills, and accumulated more than RM3,000 and above, then you are almost confirm to win one of the monthly prizes. According to M2U
terms and condition
, selection of the winners will be based on the number of bill payment transactions with minimum of RM30, performed during the contest period. This mean you can just break your RM3,000 debts into 300 times to pay the bill via M2U online, by RM30 per transaction.
However, some drawbacks you might need to consider.
a) You have to click more than 300 times to schedule for the payment in M2u, if it happens.
b) The contest will end on 30th June 2008 (sorry my post was quite late).
c) Maybank reserves the right to disqualify any "incomplete/illegible/unsuccessful entries.
d) You only entitled to win ONE prize.
e) You don't know what you get from Maybank2u.com premium items, if you hit consolation prize. May be it's a RM20 voucher, who know.
f) The T&C also stated for the prize giving ceremony, you are required to attend at your own expense to collect the prize. Why is this in the T&C? Can it be the prize giving ceremony is fall at KL?
To be honest to you, I've tried to do more than 10 payment transactions to DBKK/Water/Electricity on last month, but unfortunately I didn't win any prize. May be others are more hardworking than me, or I were disqualified by Maybank. Haha. So may be you can email/call M2U personal to clarify the T&C. I'm still insist my method works. ;)
So you are you going to try? May be you are the next winner?
Why not now as eventually you have to settle your bill somehow?
Good luck to you then.