Are you a blogger? I am not sure whether you attend any blogger gathering before, I didn't. As I visited some friends' blogs recently, I noticed they have a banner attached at their blogs.
No link, no venue & no price attached on every blogger who put such banner.

Oh, it's a Sabahan Bloggers Gathering event. The venue will be Imperial Hotel, Warisan Square and the date will be coming 2nd August. According to the
organizer
, the objective of this gathering is "to organize a socializing event as a conduit to foster the blogging community in real life, to have fun and to induce business opportunities". It is always interesting when it talks about induce business opportunities, not sure what's in details. But I guess it's about blog's advertisement, and to get Sabahan bloggers introduce to each other, so they can support each other's blog.

Nuffnang blogger gathering at Penang, should be some pretties there.

The attendance can be confirm easily via
Facebook
, a no cost and creative idea to do so. And the entrance fee is only cost not more than RM30, perhaps they managed to get some sponsors. No doubt it is a good plan, but I doubt the major concern is who willing to attend such event. So far it's only 49 people confirmed attending this event up to today, where the organizer target is about 100 people. 50% more to go.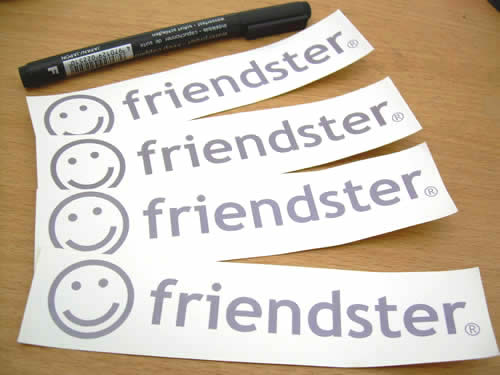 Is Friendster dreading?

From my point of view, the promotion strategy seems like a little bit lame. First of all, I unable to click the promotion banner to forward me to the full details of the event. The promotion banner did not stated the venue, objective and ticket price of the event. They also didn't specify the limit can attend to this event. To be honest, it doesn't attract me at all.
Let's look at the tentative event itinerary from organizer.
6:15pm - Bloggers Registration
7pm - SBG Official Start / Emcee Intro / Welcome Speech
7:30pm - Song Performance (TBC)
8pm - First Game (Pictionary)
8:30pm - First Lucky Prize Draw
8:45pm - Dance Performance (TBC)
9pm - Second Game (Reaction)
9:30pm - Second Lucky Prize Draw
10pm - Third Game (optional) OR Prize Giving Awards
10:30pm - Third Lucky Prize Draw (Bingo Draw)
11pm - END – Group Photo Session
The event begin from 6.15pm till 11pm, which takes about 4.75 hours, doesn't it seems like too long? If the event has nothing special apart from dinner and lucky draw, I bet the crowd may leave the event early. Besides, I'm not sure whether this event able get every attendance involve and interacted. They should have a session to allow bloggers to introduce and get to know each other. Not every blogger know how to socialize, and some of them are shy, just like me. The organizer should also come up more attraction points of this event in order to get more attendance, a modeling show from bloggers might be funny. Lucky draw is good, but at least announce the grand prize out to draw more attraction la. Hey, I also didn't see any program mentioned about the objective of induce business opportunity.

How about an Ipod or a DigiCam?

Another important thing, the organizer even didn't announce if there is any honor guess will attend to this event. I remembered
Nuffnang
had their 1st anniversary event since a couple of months back, they managed to invite famous bloggers such as Singaporean
Dawn Yang
and Malaysian
Kenny Sia
. This is more than enough for me not to deter to attend this particular event. So far I don't know who is the famous blogger in Sabah yet, perhaps they need to pay to import a famous blogger from other state/country.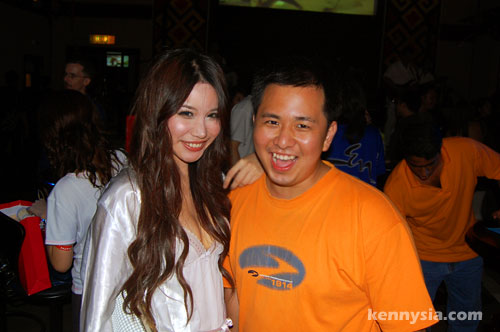 Dawn Yang looks a little bit lame in this photo.

Anyhow, I willing to attend this event because I want to
be famous too
get traffics for my blog too, and see how they make this event, as well as listen to their induce business opportunity. No problem, it's only RM30 cum support as a Sabahan blogger. Who know I able to get my RM30 back from the lucky draw. Due to I unable to confirm the attendance at this moment, I have registered under 'Maybe Attending' in the Facebook of this event.
Whatever it is, they still have about 1 and a 1/2 month to improve and get more people to join. Be it appreciate or not, I will post the comments above to the event's Facebook for them to review. Hope they can organize the event successfully and achieve their objective.
I will try update
here
again, if the organizer make any significant amendment after this.