Since petrol price is hiked like hell nowadays, we must wonder whether petrol kiosks are making money. Perhaps they are, as we are seeing new vehicles and car plat numbers on the road everyday . Since fuel is under price control item, no one can sell it cheap or expensive, or even open a petrol station easily in Malaysia. Sounds pretty good business.
The petrol dealers ass. (association) chairman Abdul Wahid on news 3 days ago announced they want to ban this and that, because the petrol kiosk owners are hardly to survive, due to high operation costs and overcharges from banks. Nah, unbelievable?
Okay, let's see what he told to the reporters.
1) Petrol kiosks owner only gained as low as 3% from 1 liter fuel sold as commission.
2) Banks are charging them 1% from 1 liter fuel sold, for every credit card transaction.
3) Supplier are charging them also 1% from 1 liter fuel sold, for every credit card transaction.
4) Apart from credit card transaction, supplier also charging them credit card machine rental, and now supplier even requesting 30% more rental fee from them.
5) Operational costs now are higher than the commissions given.
Requests they had made:
1) The ass. has requested to increase the commission to 6%.
2) They will ask all the petrol kiosks to operate 18 hours only, as there will be no profit between 11pm and 7am, so they able to cut down 30% of the expenses.
3) They urge the owner not to accept credit card at this moment, until the commission is being adjusted (they can save 2% commissions from the credit card sales now).
Fine. From what I know, they are getting commission of petrol 9.5 cents per liter and diesel 4.5 cents per liter. To see whether they are making profit or loss, let's do simple calculation based on city kiosks.
1) We assume total average fuel sales per day is about 20,000 liters. 12,000 liters go to petrol and 8,000 liters go to diesel.
2) Gross profit for petrol 12,000 liters x 9.5 cents & diesel 8,000 x 4.5 cents = RM1,140 + RM360 = RM1,500
3) Gross profit per month is about RM45,000.
4) If the consumers are using credit card, they need to pay supplier and bank 1% respectively. We assume 60% of the consumers are using credit card.
12,000 liters x 2% x RM2.70 x 60% x 30 days = RM11,664
8,000 liters x 2% x RM2.58 x 60% x 30 days = RM7430.40
Total = RM19,094.40
Don't forget they need to pay the kiosks rental, workers, electricity & water, and also the credit card rental, pump rental, kiosks maintenance, estimate total expenses is about RM10,000-RM15,000.
After deduct all expenses and other commissions, they still have about
RM10,905.60

nett profit per month
,
RM130,867.20

per year
, still okay I guess?

Why there is high operational costs since you are not using advanced technology?

Anyway, It's obvious that they are not benefit from the fuel price hiked. The fuel price is a lot higher now, but they only managed to earn the sales by fixed commission, while bank and supplier is earning commission by liter via credit card sales, as mentioned above.
And the worse is they have to come up with more capital to buy fuel from supplier. Meaning, they have to fork out extra 41% and 63% to buy petrol and diesel from supplier. They need more capital to continue this business.

Will that silly cover scratch the car?

Okay, they won. Government (Datuk Shahrir) had announced yesterday that they can have the new commission rate now. The new commission rate for petrol is 12.19 cents per liter and diesel is 7 cents per liter. It's about 28% and 56% increase. And the ass. chariman Abdul Wahid said "We accept it with gratitude. With the new rates, we can at least survive."
We recalculate the nett profit with new commission rate again.
1) Gross profit for petrol 12,000 liters x 12.19 cents & diesel 8,000 x 7 cents = RM1,462.80 + RM560 = RM2,022.80
2) Monthly gross profit = RM60,684
3) Credit card users 60% = RM19,094.40
3)
Monthly nett profit
= RM60,684 - RM19,094.40 - RM16,500 =
RM25,089.60
4)
Yearly Nett Profit

=

RM301,075.20
Nah, they are gaining 131% extra of the total nett profit now, of course that ass. chairman said they are satisfied la!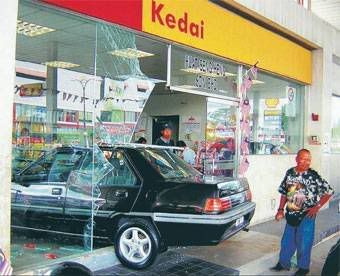 Don't force me do this, if the ass. intend to shut down petrol station again.

Hey, seems like this method is working in Malaysia. Can we spread the rumours to stop pumping fuel at Petronas kiosks for 3 years to demand for lower fuel price from government now?